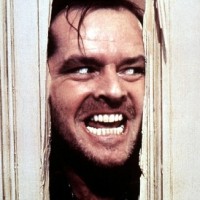 Last night, G and I were driving off to Bellevue for dinner. There was this guy on the side of the road at an intersection, holding a cardboard sign. He's wearing hiking boots, shorts, a t-shirt, a hoodie (hood up), and sunglasses. He has a remarkable amount of facial hair.
A few things seemed kind of odd. The shorts are weird because Seattle people think it's 'bundle up' weather once it hits 60°. The sunglasses were weird because it was almost dark out. The choice of intersection was weird because it was just to a side street – not exactly a great panhandling place.
Then, he turned around, and I could read his sign: "RED RUM" scrawled on two lines.
Not at all creepy.