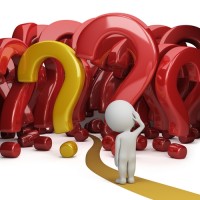 TL; DR: I have knit the front of (what will be) a double-sided baby blanket. Please feel free to share your favorite blanket edgings with me!
Operational Parameters (or: Some Restrictions Apply)
I'm open to pretty much anything, but there are things that will definitely make me more or less inclined to jump with joy at your suggestion.
At least a marginal level of interesting. The blanket's original pattern provides an edge pattern. It is boring. Thus my search for a new edging. 1
This is for a baby blanket. For some inexplicable reason, designers of baby blankets include a lot of lace or loops or the like. To me, that just screams "place to grab and hold onto a baby finger or toe." 2
Blanket Mechanics
Yarn: The blanket is knit using eight colors of Cascade Superwash Sport.
Gauge: About 6 stitches per inch on US 7 needles. 3
Construction Details: As mentioned, I have just completed the front side of the blanket.

It is 164 stitches wide, and 397 rows tall.
I used a provisional cast on.
I have put the live stitches from the front onto waste yarn. This leaves both ends of the front and the back exposed in a manner ready to accept any matter of mayhem. 4
Essentially, I will have two pieces of 164 stitch x 397 row stockinette. The goal is to end up with a single fabric comprised of those two pieces joined together with wrong sides facing one another.